When:
February 22, 2021
all-day
2021-02-22T00:00:00-05:00
2021-02-23T00:00:00-05:00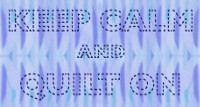 February 22 – 28, 2021
Pajaro Valley Quilt Association (PVQA) is proud to announce our 2021 Quilt Show, "Keep Calm and Quilt On," running Monday, February 22, 2021 – Sunday, February 28, 2021, and coming to a device near you! We chose our theme this year for its positive message about overcoming adversity, of which we've had an abundance in 2020. Makers have always had a can-do attitude regardless of what life throws our way, and we express that by making items of comfort and beauty for ourselves and others. We "Keep Calm and Quilt On!"
This year, due to the restrictions on large gatherings due to the coronavirus pandemic, our show will be online rather than at the Santa Cruz County Fairgrounds. Although we will miss seeing our friends, fans and merchants in person, we will still be able to provide a safe and enjoyable way to show our quilts, wearable art, and handmade items online. We will also have a Merchant Mall gallery where you will be able to find your favorite vendors (and maybe some new ones!) Come see the amazing quilts crafted by our community this year, some of which will even be for sale during the show.