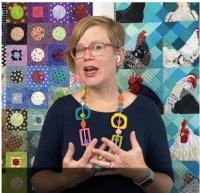 Starts 7 PM, doors open at 6 PM
Before and After: Repeating Patterns (45-60 minutes)
Where do ideas come from? For Timna, much of her work is inspired by antique and family quilts. In this lecture she will show the utilitarian quilts from her life, and how they planted the seeds that became the contemporary works that she now creates.
Handicap accessible
Parking: Plenty of parking
Food: There will be no food at the trunk show.