When:
October 8, 2022 @ 11:00 am – 3:00 pm
2022-10-08T11:00:00-04:00
2022-10-08T15:00:00-04:00
Where:
245 West Foster Street
Melrose MA 02176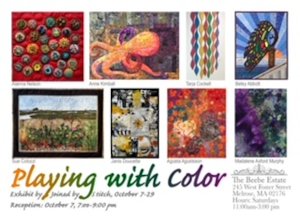 October 7 – 29, 2022
Friday, October 7 from 7 to 9pm. Saturdays from 11 am to 3 pm.
Come to the Beebe Estate in Melrose to discover "Playing in Color," a fiber and quilt art exhibit of Joined by Stitch. Meet the artists at the October 7, 2022 reception from 7 to 9 pm.
Joined by Stitch is the critique group of Betsy Abbott, Agusta Agustsson, Tarja Cockell, Sue Colozzi, Janis Doucette, Anne Kimball, Madalene Axford Murphy and Alanna Nelson. Since 2016, they meet monthly to discuss and support each other's art. They are all members of Studio Art Quilt Associates (SAQA).
While all group members use color and fiber in their work, the materials and techniques offer a wide range of opportunities to explore and play. Members dye, print, weave, felt, paint with thread, and stitch, discovering new opportunities for textiles to turn into landscapes, emotions and messages.
The Beebe Estate is open Saturdays from 11 am to 3 pm. Visitors are welcome to wear masks and practice social distance protocols.
Handicap accessible
Free parking between the Beebe Estate and Milano Community Center.
Food: Downtown Melrose offers a wide range of cafes, restaurants and grocery stores.