When:
January 6, 2023 @ 10:00 am – 2:00 pm
2023-01-06T10:00:00-05:00
2023-01-06T14:00:00-05:00
Where:
Topsfield Town Library
1 South Common St.
Topsfield MA 01983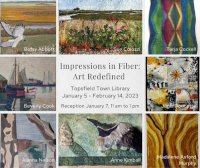 Jan. 5 – Feb. 14, 2023
Mon. – Thurs. 10 – 7
Fri. – Sat. 10 – 2
As long as the activity room is not in use (call 978- 887-1528 to check)
The exhibit features the work of eight Massachusetts fiber artists, including Betsy Abbott and Tarja Cockell of North Andover, Sue Colozzi and Beverly Cook of Reading, Janis Doucette of North Reading, Anne Kimball of Mattapoisett, Madalene Axford Murphy of Amesbury, and Alanna Nelson of Marion. All of the artists are members of the international organization, Studio Art Quilt Associates (SAQA).
While all of these artists work in fiber, each one has developed her own unique style to portray work that ranges from abstract to representational. Their techniques include skills such as free motion stitching, fabric printing and painting, hand dyeing, weaving, felting, thread sketching, and detailed hand stitching. Beyond commercial fabrics, materials used might include wool roving, recycled plastic, photographs, beads, or fresh and dried plant material. The artists experiment with color, design, and texture to finally achieve their visions, resulting in works of art that delight and inspire curiosity within their viewers.
Handicap accessible. Building is wheelchair accessible; handicapped accessible restrooms, elevator, handicapped parking close to entry
Street parking
Food: Reception on Saturday, Jan. 7 from 11 – 1. Refreshments will be served.