When:
February 2, 2023 @ 9:00 am – 5:00 pm
2023-02-02T09:00:00-05:00
2023-02-02T17:00:00-05:00
Where:
20 Academy St.
(3rd floor wheelchair accessible)
Arlington MA 02476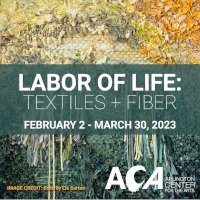 Feb. 2 – March 30, 2023
Opening reception: Thursday, Feb. 9, 6-7:30 p.m.
Often taken for granted, textiles have had an impact on every aspect of our lives. In this exhibition, curated by textile artist and educator, Kristina Goransson, works are shown that demonstrate how textiles are used not only as aesthetic tools to express our ideas and identities but also to improve life with innovative new technologies.
Handicap Accessible. Use entrance at side of building (27 Maple St) where there is a ramp and easy access to the elevator.
Parking: Limited space in adjacent parking lot, but plenty of on-street parking on Maple and Academy Streets and Mass. Ave.
Food: Local restaurants on Mass. Ave. (No food at the event).