When:
2021-08-11T00:00:00-04:00
2021-08-12T00:00:00-04:00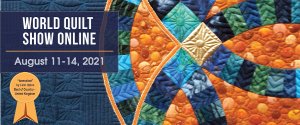 August 11 – 14, 2021
Mancuso Show Management is pleased to announce the World Quilt Show Online. This dynamic virtual show will be available around the clock from start to finish, August 11-14, 2021. For our 7th online event, virtual show-goers will view quilts in special exhibits, shop the Merchants Mall vendors online, and take virtual, interactive workshops from the comfort of home. Whether it's your desktop computer, tablet, laptop, or smartphone you can enjoy a great festival no matter where you are!
Food: Check your fridge!